Baseball and Softball Training for Youth, Teens and Young Adults
       Talent is God Given. Be Humble. Fame is man-given. Be grateful. Conceit is self-given. Be Careful.    
       – John Wooden      
Christlike | Truthful | Stand Tall
Cross the Seams Baseball & Softball Training is a Spiritual, Physical and Technical training system to help develop and enhance the baseball & softball experience for each and every player, regardless of skill level. Each instructor goes through several levels of training to become qualified to teach a consistent systematic approach to help each player progress to a higher level.
CTS
is about the system, not the instructor.
CTS
also puts a focus on each 
player's personal growth with follow up & homework. Our mission is to teach the "why's" & not the "why not's". Each player becomes independent enough with knowledge to make adjustments on their own.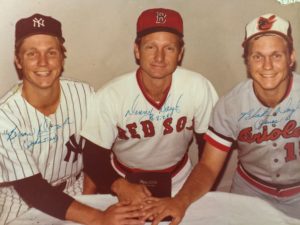 Cross the Seams would like to give much thanks and gratitude to brothers Brian, Blake and Denny Doyle, who have impressive backgrounds as professional players, coaches and teachers, but most importantly a close
 relationship with God.  The Doyle's inspiration has helped CTS todevelop a broad-based curriculium designed to progressively challenge and motivate players as well as instill character and discipline.
Memorize | Visualize | Perform
A The basics. FINISH-OBJECTIVE-TRIGGER. Concentrating on balance
strength & discipline. POWERLINE AA Improving bat angle – top hand & a consistent swing into all power channels. AAA Hitting routine. OFF THE BUS-IN THE DUGOUT-ON DECK- AT THE PLATE. Yes – Yes hitting. Taking your body to the next level. ELITE By now have passed all testing to become an ELITE player. Continued ADVANCED training on specific weaknesses & preparing for college.
R U on the right Path?
Customized team training CTS & Sports Enhancement.
Travel Team program designed to develop, & not "Cherry Pick", each player Spiritually – Physically & Technically.
Video Spotlight
Here's a few videos we thought you might enjoy! Click the arrows to scroll through.